Wright Mountain
---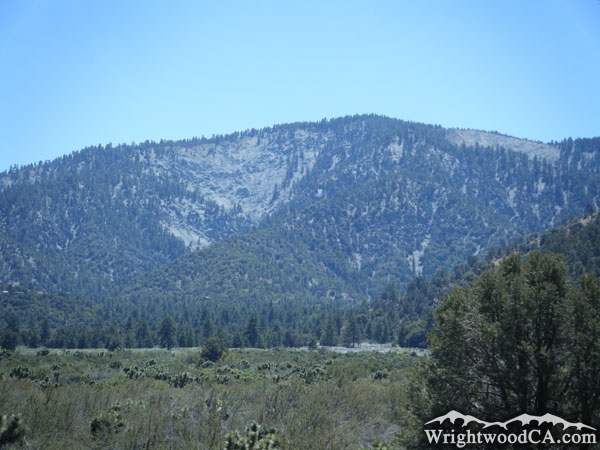 Wright Mountain (Elevation 8,505')
Wright Mountain is only 8,505' in elevation however, it seems to tower as the largest landmark above the town of Wrightwood, California. Wright Mountain is the final mountain to the north end of the North Baldy Backbone and the starting point to the North Backbone Trail. On its north slope are two large landslide scars that can be seen from almost anywhere in the High Desert. It is the highest point of what is known as the Blue Ridge, which encompasses the area including Mountain High Ski Resort and Inspiration Point. To the north-east of Wright Mountain is Slover Canyon, which quickly drops down into Lone Pine Canyon. On the north-west slope of Wright Mountain is Acorn Canyon and the Acorn Trail, which travels down the canyon to the town of Wrightwood. Not too far to the west of Wright Mountain is Guffy Campground, with great views of the San Gabriel Mountains.
For more information, visit Wright Mountain on WrightwoodCA.com
Local San Gabriel Mountains
San Gabriel Mountains, Mt Baldy, Iron Mountain, Dawson Peak, Pine Mountain, Mt Baden-Powell
WrightwoodCA.com References
Mountains: San Gabriel Mountains, Mt Baldy, Pine Mountain, Dawson Peak, Mt Baden-Powell, Wright Mountain, Blue Ridge, Iron Mountain, Table Mountain, Pine Mountain Ridge, Inspiration Point, Circle Mountain
Canyons and Valleys: Acorn Canyon, Fish Fork, Lone Pine Canyon, Mine Gulch, Prairie Fork, East Fork San Gabriel River Basin, Slover Canyon, Swarthout Valley, Vincent Gap, Vincent Gulch
Hiking Trails: Acorn Trail, Big Pines Nature Trail, Bighorn Mine Trail, Blue Ridge Trail, Dawson Peak Trail, Fish Fork Trail, Lightning Ridge Nature Trail, Mine Gulch Trail, Mt Baden-Powell Trail, North Backbone Trail, Pine Mountain Ridge Trail, Prairie Fork Trail, Table Mountain Nature Trail
Campgrounds: Table Mountain Campground, Mountain Oak Campground, Cabin Flat Campground, Lupine Campground, Apple Tree Campground, Lake Campground, Blue Ridge Campground, Guffy Campground, Jackson Flat Group Campground, Peavine Campground
Picnic Areas: Arch Picnic Area, Grassy Hollow Picnic Area, Jackson Lake Picnic Area, Mescal Picnic Area, Table Mountain Picnic Area
---
Wrightwood CA Network: Wrightwood CA | San Gabriel Mountains | Wrightwood Weather | Murphy Concepts

Copyright © 2011-2012 - WrightwoodCA.com and the Wrightwood CA Network - All Rights Reserved.