Pine Mountain
---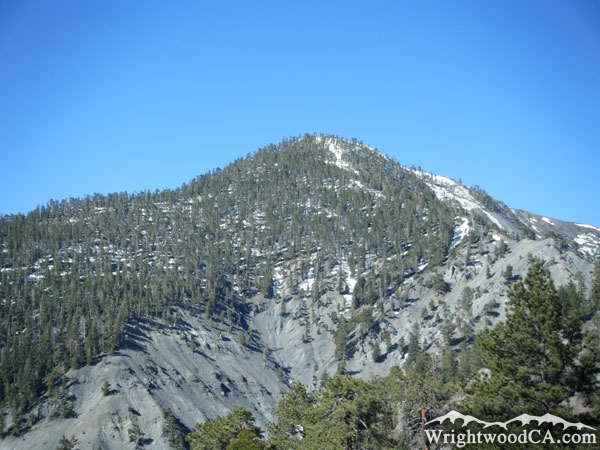 Pine Mountain (Elevation 9,648')
Pine Mountain is one of the taller peaks in the San Gabriel Range at 9,648' in elevation. This mountain has something of a cone shape to its peak and is somewhat bald, as it also reaches just above the tree line. The south face of Pine Mountain is very steep, making ascent from the North Backbone Trail (from Dawson Peak) very difficult. The east face of Pine Mountain drops off very quickly into the Lytle Creek area and the west face of the mountain drops dramatically down into the Lupine Campground and Cabin Flat area. The Pine Mountain Ridge stretches from the peak, down in a south-west direction and separates the Cabin Flat area from the Fish Fork of the San Gabriel River. Pine Mountain is a great mountain to hike from the Wrightwood side as it is not too far in distance and it will still give you a lot of elevation gain in a short period of time. Like Dawson Peak and Mt Baldy, Pine Mountain doesn't offer many places to fill up a water bottle after the snow has melted off for the season, so be sure to bring plenty of water if you plan on hiking to the summit. At the top of the mountain there are usually rocks piled in circular shapes to act as a wind break. These make for great places to stop and have lunch or camp for the night and enjoy the views offered by the San Gabriel Mountains.
For more information, visit Pine Mountain on WrightwoodCA.com
Local San Gabriel Mountains
San Gabriel Mountains, Mt Baldy, Iron Mountain, Dawson Peak, Wright Mountain, Mt Baden-Powell
WrightwoodCA.com References
Mountains: San Gabriel Mountains, Mt Baldy, Pine Mountain, Dawson Peak, Mt Baden-Powell, Wright Mountain, Blue Ridge, Iron Mountain, Table Mountain, Pine Mountain Ridge, Inspiration Point, Circle Mountain
Canyons and Valleys: Acorn Canyon, Fish Fork, Lone Pine Canyon, Mine Gulch, Prairie Fork, East Fork San Gabriel River Basin, Slover Canyon, Swarthout Valley, Vincent Gap, Vincent Gulch
Hiking Trails: Acorn Trail, Big Pines Nature Trail, Bighorn Mine Trail, Blue Ridge Trail, Dawson Peak Trail, Fish Fork Trail, Lightning Ridge Nature Trail, Mine Gulch Trail, Mt Baden-Powell Trail, North Backbone Trail, Pine Mountain Ridge Trail, Prairie Fork Trail, Table Mountain Nature Trail
Campgrounds: Table Mountain Campground, Mountain Oak Campground, Cabin Flat Campground, Lupine Campground, Apple Tree Campground, Lake Campground, Blue Ridge Campground, Guffy Campground, Jackson Flat Group Campground, Peavine Campground
Picnic Areas: Arch Picnic Area, Grassy Hollow Picnic Area, Jackson Lake Picnic Area, Mescal Picnic Area, Table Mountain Picnic Area
---
Wrightwood CA Network: Wrightwood CA | San Gabriel Mountains | Wrightwood Weather | Murphy Concepts

Copyright © 2011-2012 - WrightwoodCA.com and the Wrightwood CA Network - All Rights Reserved.