Mt Baldy (Mount San Antonio)
---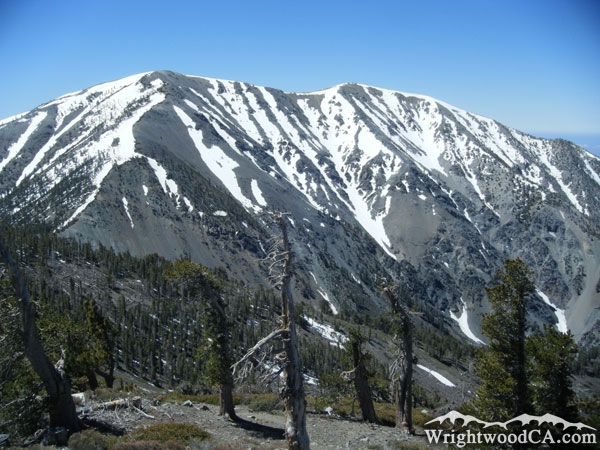 Mt Baldy (Elevation 10,064')
Towering above the valleys of Southern California (and all of the other San Gabriel Mountains) is Mount San Antonio, more commonly known as Mt Baldy. How did it get its name? Due to its high elevation, the peak of the mountain is high above the tree line, giving it a "bald" appearance, hence its name "Mt Baldy". The Mt Baldy Village is located directly under the mountain, on the south-facing slope. The Mt Baldy Ski Resort rests along a saddle to the east of the summit. This ski resort is known for its amazing powder conditions after a big winter storm. Because the slopes tend to be south-facing, they are more exposed to the sun in the winter months causing the snow to melt off quickly, unlike Mountain High's north-facing slopes only a few miles away, which tend to hold onto snow longer in the season. Due to its proximity to the Los Angeles area and ease of access, Mt Baldy tends to see many more hikers in the summer months than other local mountains. These waves of hikers bring with them a more urgent need for local Search and Rescue Teams. The San Bernardino County Sheriff's Departments conducts a large majority of their search operations on Mt Baldy. Often times the local Wrightwood/Phelan Search and Resecue Team is called to assist with some of the longer searches on one of Southern California's taller peaks. On a clear day, from the peak of Mt Baldy you can see the ocean and sometimes Catalina Island. Althought it is the tallest peak in Los Angeles County, it is only the thirt tallest peak in Southern California, as Mt San Gorgonio and Mt San Jacinto are both taller. To the north-east of Mt Baldy is the small community of Lytle Creek. To the north of Mt Baldy is the North Backbone Trail, which travels rugged terrain over Dawson Peak and Pine Mountain toward Wrightwood. To the north-west, Baldy's steep slopes drop down into the Fish Fork of the San Gabriel River Basin. This is some of the most beautiful but hard-to-access terrain in the San Gabriel Mountains. Finally, to the south-west of the peak is "West Baldy" at 9,988' in elevation. This part of the mountain breaks off toward Iron Mountain...
Local San Gabriel Mountains
San Gabriel Mountains, Iron Mountain, Dawson Peak, Pine Mountain, Wright Mountain, Mt Baden-Powell
WrightwoodCA.com References
Mountains: San Gabriel Mountains, Mt Baldy, Pine Mountain, Dawson Peak, Mt Baden-Powell, Wright Mountain, Blue Ridge, Iron Mountain, Table Mountain, Pine Mountain Ridge, Inspiration Point, Circle Mountain
Canyons and Valleys: Acorn Canyon, Fish Fork, Lone Pine Canyon, Mine Gulch, Prairie Fork, East Fork San Gabriel River Basin, Slover Canyon, Swarthout Valley, Vincent Gap, Vincent Gulch
Hiking Trails: Acorn Trail, Big Pines Nature Trail, Bighorn Mine Trail, Blue Ridge Trail, Dawson Peak Trail, Fish Fork Trail, Lightning Ridge Nature Trail, Mine Gulch Trail, Mt Baden-Powell Trail, North Backbone Trail, Pine Mountain Ridge Trail, Prairie Fork Trail, Table Mountain Nature Trail
Campgrounds: Table Mountain Campground, Mountain Oak Campground, Cabin Flat Campground, Lupine Campground, Apple Tree Campground, Lake Campground, Blue Ridge Campground, Guffy Campground, Jackson Flat Group Campground, Peavine Campground
Picnic Areas: Arch Picnic Area, Grassy Hollow Picnic Area, Jackson Lake Picnic Area, Mescal Picnic Area, Table Mountain Picnic Area
---
Wrightwood CA Network: Wrightwood CA | San Gabriel Mountains | Wrightwood Weather | Murphy Concepts

Copyright © 2011-2012 - WrightwoodCA.com and the Wrightwood CA Network - All Rights Reserved.