Mt Baden-Powell
---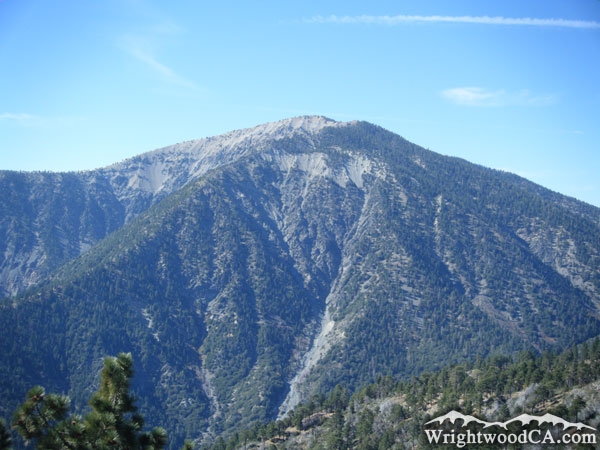 Mt Baden-Powell (Elevation 9,399')
Last but not least, Mt Baden-Powell stands across from the other giants, on the west side of the east fork of the San Gabriel River Basin. This is a popular destination for hikers with the Vincent Gap Trailhead parking lot at the base of the mountain, off Highway 2. This trailhead is the hub to at least 4 main trails in the area. From the north, the Pacific Crest Trail drops down from the Jackson Flat Group Campground and connects to the Mt Baden-Powell Trail. From here, the Mt Baden-Powell Trail and Pacific Crest Trail (PCT) continue together for just under 4 miles of switchbacks up the north face of the mountain. Toward the top, the PCT breaks off and continues through the San Gabriel Mountains to eventually end up at the Canadian border. The Mt Baden-Powell Trail finishes at the Boy Scout Monument atop the mountain. From the parking lot (at the bottom), the popular Bighorn Mine Trail travels to the east, around the mountain, to the Bighorn Mine. This is a great place to hike if you aren't looking for anything too strenuous. Finally, the Mine Gulch Trail breaks away from the Bighorn Mine Trail, near its start, and drops deep down into the east fork of the San Gabriel River. Each trail in the area has something unique to offer and all are worth trying if you have the time.
For more information, visit Mt Baden-Powell on WrightwoodCA.com
Local San Gabriel Mountains
San Gabriel Mountains, Mt Baldy, Iron Mountain, Dawson Peak, Pine Mountain, Wright Mountain
WrightwoodCA.com References
Mountains: San Gabriel Mountains, Mt Baldy, Pine Mountain, Dawson Peak, Mt Baden-Powell, Wright Mountain, Blue Ridge, Iron Mountain, Table Mountain, Pine Mountain Ridge, Inspiration Point, Circle Mountain
Canyons and Valleys: Acorn Canyon, Fish Fork, Lone Pine Canyon, Mine Gulch, Prairie Fork, East Fork San Gabriel River Basin, Slover Canyon, Swarthout Valley, Vincent Gap, Vincent Gulch
Hiking Trails: Acorn Trail, Big Pines Nature Trail, Bighorn Mine Trail, Blue Ridge Trail, Dawson Peak Trail, Fish Fork Trail, Lightning Ridge Nature Trail, Mine Gulch Trail, Mt Baden-Powell Trail, North Backbone Trail, Pine Mountain Ridge Trail, Prairie Fork Trail, Table Mountain Nature Trail
Campgrounds: Table Mountain Campground, Mountain Oak Campground, Cabin Flat Campground, Lupine Campground, Apple Tree Campground, Lake Campground, Blue Ridge Campground, Guffy Campground, Jackson Flat Group Campground, Peavine Campground
Picnic Areas: Arch Picnic Area, Grassy Hollow Picnic Area, Jackson Lake Picnic Area, Mescal Picnic Area, Table Mountain Picnic Area
---
Wrightwood CA Network: Wrightwood CA | San Gabriel Mountains | Wrightwood Weather | Murphy Concepts

Copyright © 2011-2012 - WrightwoodCA.com and the Wrightwood CA Network - All Rights Reserved.