Iron Mountain
---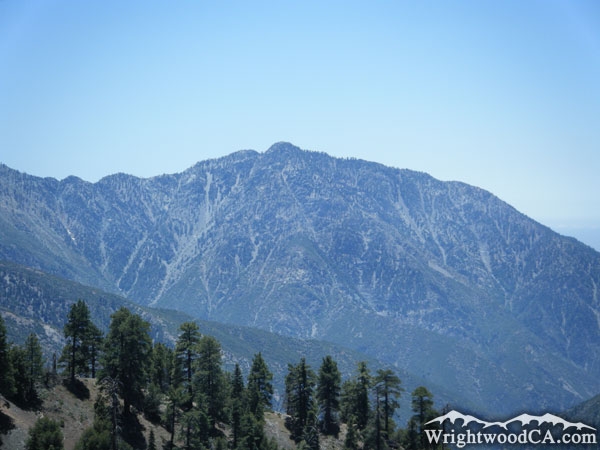 Iron Mountain (Elevation 8,007')
Although not as tall as some of the other peaks in the San Gabriel's, Iron Mountain is very rugged with steep slopes on most of its sides. There are many hidden mines located on the south side of Iron Mountain.
This mountain appears very large as it prominently rises above the east fork of the San Gabriel River. Iron Mountain is best viewed from Inspiration Point, just out of Wrightwood, on Highway 2. It appears as one of the centerpieces of the mountainous landscape with its rocky and somewhat jagged peak. To the north of Iron Mountain is the Fish Fork of the San Gabriel River.
For more information visit Iron Mountain on WrightwoodCA.com
Local San Gabriel Mountains
San Gabriel Mountains, Mt Baldy, Dawson Peak, Pine Mountain, Wright Mountain, Mt Baden-Powell
WrightwoodCA.com References
Mountains: San Gabriel Mountains, Mt Baldy, Pine Mountain, Dawson Peak, Mt Baden-Powell, Wright Mountain, Blue Ridge, Iron Mountain, Table Mountain, Pine Mountain Ridge, Inspiration Point, Circle Mountain
Canyons and Valleys: Acorn Canyon, Fish Fork, Lone Pine Canyon, Mine Gulch, Prairie Fork, East Fork San Gabriel River Basin, Slover Canyon, Swarthout Valley, Vincent Gap, Vincent Gulch
Hiking Trails: Acorn Trail, Big Pines Nature Trail, Bighorn Mine Trail, Blue Ridge Trail, Dawson Peak Trail, Fish Fork Trail, Lightning Ridge Nature Trail, Mine Gulch Trail, Mt Baden-Powell Trail, North Backbone Trail, Pine Mountain Ridge Trail, Prairie Fork Trail, Table Mountain Nature Trail
Campgrounds: Table Mountain Campground, Mountain Oak Campground, Cabin Flat Campground, Lupine Campground, Apple Tree Campground, Lake Campground, Blue Ridge Campground, Guffy Campground, Jackson Flat Group Campground, Peavine Campground
Picnic Areas: Arch Picnic Area, Grassy Hollow Picnic Area, Jackson Lake Picnic Area, Mescal Picnic Area, Table Mountain Picnic Area
---
Wrightwood CA Network: Wrightwood CA | San Gabriel Mountains | Wrightwood Weather | Murphy Concepts

Copyright © 2011-2012 - WrightwoodCA.com and the Wrightwood CA Network - All Rights Reserved.