Dawson Peak
---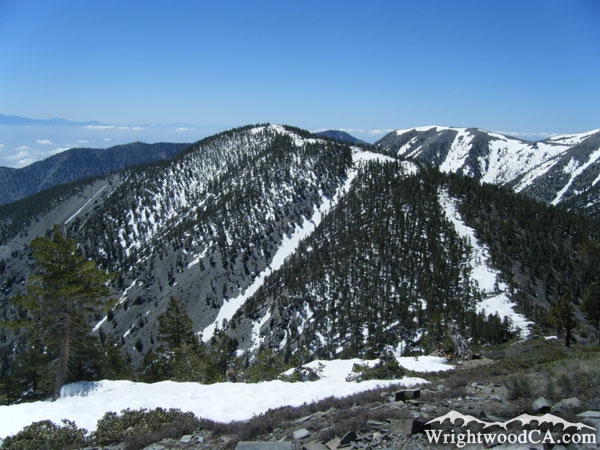 Dawson Peak (Elevation 9,575')
Returning to Mt Baldy's North Backbone Trail, Dawson Peak is sandwiched between Baldy and Pine Mountain. At 9,575' in elevation, Dawson Peak is not as tall as either Mt Baldy or Pine Mountain, however if you are hiking up its south slope (from the Baldy side) you will definitely burn a few calories. After you near the summit, the North Backbone Trail continues down Dawson Peak's north spine on a gradual descent toward the saddle next to Pine Mountain. Dawson Peak is more remote than most mountains because of its location however, it does have its own hiking trial, which slowly traverses its south-west slope down into the Fish Fork of the San Gabriel River. This trail is very poorly maintained and very painful to travel if you are not wearing long pants, as the bushes on the trail are heavily overgrown in most areas, making large portions of the trail difficult to travel. If you are looking for awesome views of the north faces of Mt Baldy and Iron Mountain, this might be the trail for you. Be sure you bring plenty of water and food as Dawson Peak does not offer much after the snow has melted off in the later months of Summer.
For more information, visit Dawson Peak on WrightwoodCA.com
Local San Gabriel Mountains
San Gabriel Mountains, Mt Baldy, Iron Mountain, Pine Mountain, Wright Mountain, Mt Baden-Powell
WrightwoodCA.com References
Mountains: San Gabriel Mountains, Mt Baldy, Pine Mountain, Dawson Peak, Mt Baden-Powell, Wright Mountain, Blue Ridge, Iron Mountain, Table Mountain, Pine Mountain Ridge, Inspiration Point, Circle Mountain
Canyons and Valleys: Acorn Canyon, Fish Fork, Lone Pine Canyon, Mine Gulch, Prairie Fork, East Fork San Gabriel River Basin, Slover Canyon, Swarthout Valley, Vincent Gap, Vincent Gulch
Hiking Trails: Acorn Trail, Big Pines Nature Trail, Bighorn Mine Trail, Blue Ridge Trail, Dawson Peak Trail, Fish Fork Trail, Lightning Ridge Nature Trail, Mine Gulch Trail, Mt Baden-Powell Trail, North Backbone Trail, Pine Mountain Ridge Trail, Prairie Fork Trail, Table Mountain Nature Trail
Campgrounds: Table Mountain Campground, Mountain Oak Campground, Cabin Flat Campground, Lupine Campground, Apple Tree Campground, Lake Campground, Blue Ridge Campground, Guffy Campground, Jackson Flat Group Campground, Peavine Campground
Picnic Areas: Arch Picnic Area, Grassy Hollow Picnic Area, Jackson Lake Picnic Area, Mescal Picnic Area, Table Mountain Picnic Area
---
Wrightwood CA Network: Wrightwood CA | San Gabriel Mountains | Wrightwood Weather | Murphy Concepts

Copyright © 2011-2012 - WrightwoodCA.com and the Wrightwood CA Network - All Rights Reserved.